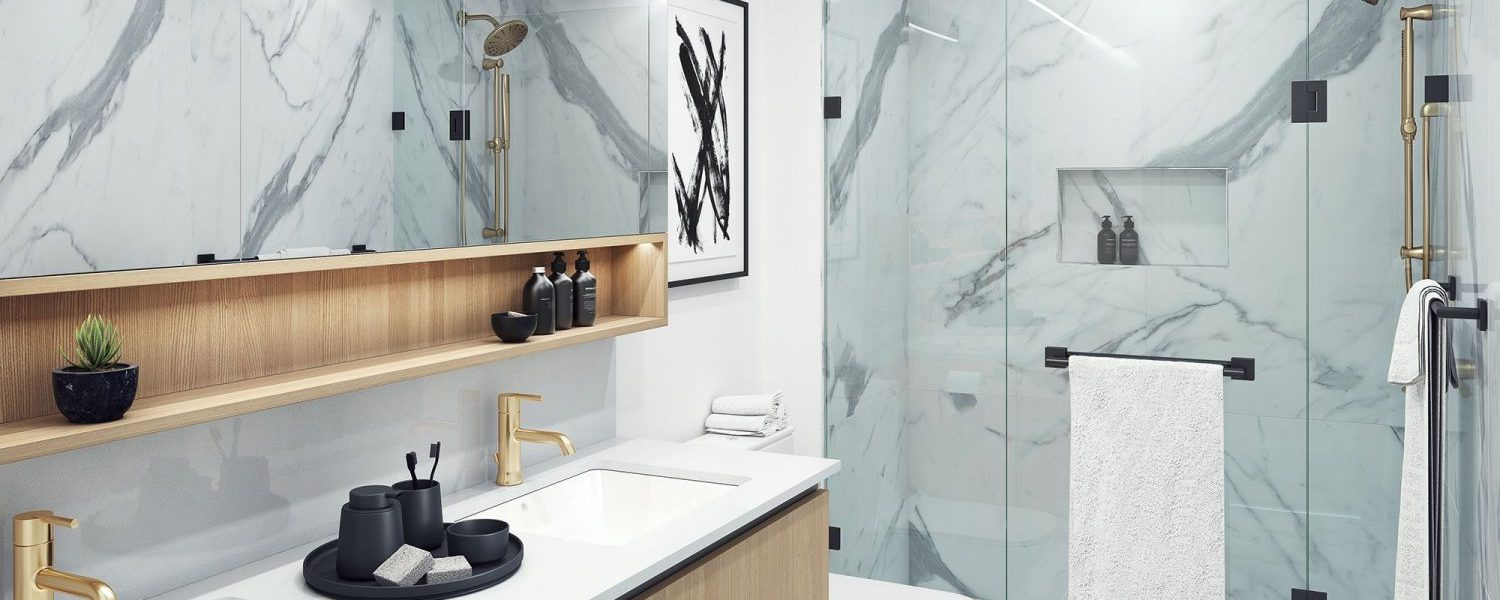 Bathroom Renovations Gold Coast
Bathroom makeovers in as little as 7 days.
Over our 18 years working in the bathroom renovation industry, we've developed a strong reputation for building luxury bathrooms at affordable prices. We offer a cost effective, premier service where every detail of your new bathroom renovation is designed and executed with meticulous attention to detail. From demolition to a complete bathroom renovation Nuspace Homes cater to every renovation budget with no deviation from our usual outstanding work.
Guaranteed Workmanship & Service
We guarantee our attention to detail and impeccable customer service accompanies absolutely every customer engagement.  We promise you a complete bathroom renovation that fits your budget, scope, requirements and timetable.
Every renovation comes backed with an industry Queensland Building and Construction Commission (QBCC) 7 year warranty.
Quality Bathroom Renovations
Nuspace employ a small team of fully qualified bathroom specialists to ensure you get the best result possible. We establish your exact requirements at planning stage and offer a full 2d & 3d cad design in order to achieve the best possible renovation.
With 18 years of experience completing thousands of Gold Coast bathroom renovations and makeovers. We are fully licensed and insured to carry out every stage of your bathroom project.
Free renovation consultation

Competitive prices & fixed priced quotes

Gold Coast Design Showroom

Fully qualified and licensed team
Bathroom renovation process
Bathroom Renovation Questions Answered
ARE YOU A LICENSED BUILDER?
Yes we are, we hold a full QBCC Builders License as well as a full bathroom renovation, 
kitchen renovation and laundry renovation
 license.
What other licenses do you hold?
Plumbing, Drainage & Gas Fitting
As well as being a fully licensed building company, we only use licensed and experienced tradespeople on our projects, these contractors have partnered with us for many years.
Services we contract out include, waterproofing, electrical, floor stripping.
HOW LONG TO DOES IT TAKE TO RENOVATE A BATHROOM?
Times vary depending on what is to be done, however you should allow 10 business days for a full standard bathroom renovation from removal to completion.
A typical bathroom renovation process in days
Days 1-2  – Remove existing bathroom, plumbing, electrical work and construction.
Days 3-4 – Waterproofing, floor screening & tiling of walls / floors.
Days 5-6 – Reconnect plumbing, install fittings, check measure shower screens and mirrors.
Day 10 – Install shower screens and mirrors, clean, polish and final inspection.
Note, custom-made shower screens and mirrors take 5-10 days from check measure to installation. Check measure is carried out after tiling on day 5. This is usually the only fixture that may push over the expected timeframe.  You can still use the bathroom and shower in this time but just need to be mindful of water splashing on other fixtures.
WHAT WARRANTY DO YOU OFFER?
Nuspace Homes promises its customers a quality bathroom renovation, no compromises, no shortcuts.
We have an industry Queensland Building and Construction Commission (QBCC) 7 year warranty on all work conducted and a limited manufactures warranty on all bathroom fittings and fixtures.
DO YOU OFFER A FULL BATHROOM RENOVATION SERVICE?
All Plumbing, Electrical and every other trade required.
Disconnecting existing fixtures and pipes in preparation for renovation
Demolition and removal including asbestos
Installation and repositioning of pipes, drains, sewage and hot water systems
Supply lighting, heating and ventilation
Waterproofing, termite sealing, concrete cutting
Supply & fitting of Bathroom floor & wall tiling
Supply & Installation of custom made shower screens and mirrors
Custom-made bathroom vanities, cabinets & mirrors
Supply & Installation of fittings and fixtures including toilet, bath, shower, sink, tapware & accessories.
ARE YOU INSURED?
We hold all of the required insurances including workers compensation, public and product liability. Any of our sub-contracted trades people do as well.
Qualified, Licensed & Insured
Fully licensed builders with the Queensland Building and Construction Commission (QBCC Licence Number: 15076997) and are full members of Master Builders Queensland (Member no 73239)
Master Builders Insurance – $20 million Platinum Protection Public and Product Liability.
HOW MUCH DOES A BATHROOM RENOVATION COST?
With our small team of bathroom renovation and building trades, we are uniquely placed to offer you exceptional value without sacrificing on quality or design.
The exact cost of your bathroom renovation will depend on:
Structural changes that need to be made, changes to existing plumbing, electrical changes, tiling heights, your choice of fixtures and fittings and so on.
Having full flexibility and control in choice of fixtures such as tiles, vanities, taps, toilet etc will naturally impact the total cost of your renovation.
If you are looking to get an overall feel on cost, we do provide a rough cost estimate for your fittings based on mid-range choices to use for your budgeting calculations.
Average costs of a new bathroom renovations sit between $10k – $15k plus tiles, tap-ware,  shower-screens and mirrors.
For more info on bathroom renovation costs visit this bathroom article. Which provides a breakdown on budget bathrooms to premium remodels.
Regardless of your financial investment, the value of the finished product will appear to be much more, enhancing your life as well as the worth of your home.
Gold Coast Bathroom Renovation Reviews
Here is just a sample of some of our bathroom renovation reviews from previous clients.  More reviews can be viewed on our Google Plus page and Facebook page.
We are so happy that we chose Mark and Adele from Nuspace to do the renovations on both bathrooms in our apartment at Main Beach. They proved to be extremely professional and the easy to get...
We have just had our second renovation completed by Nuspace homes. The first was a laundry room and the latest was our en-suite and walk in robe. The experience in both instances was a very positive...
Excellent from beginning to finish. Thank you for making our vision become reality. Again thanks to all who made our bathroom a reality and exactly what we envisioned. Cathy & Darren M. Canungra....
Excellent quality work / materials / response time. I used to have a terrible bathroom with desperate need for renovation and Nuspace homes have outdone them self in making a perfect ultra modern bathroom for...
Nuspace Homes are wonderful to deal with, their advice is invaluable and they do great work. I couldn't fault Nuspace and everyone involved in the renovation of my townhouse. Mark and his workers exceeded my expectations...
We are so pleased with the work Mark and his team did! We actually booked with them halfway through our bathroom reno, after our first contractor didn't work out. Mark came out right away to give us a...
We have used nuspace for 2 renovations, most recently our main Bathroom renovation. We found them to be trustworthy, helpful and accommodating, regarding every aspect of the renovation. They made the process very easy letting us know...
Mark is an extremely skilled and hard working young man. He went above and beyond when it came to my ensuite renovation.  He held my hand through the purchase of the materials and created a beautiful new...
What a refreshing change - a construction company that responded to the initial request for a quote. That alone was a big change from other Gold Coast companies. Then, they did what they said they would,...
Bathroom Products
View online an extensive range of bathroom fixtures or visit our Arundel showroom
Bathroom Renovations Gold Coast
Nuspace specialise in delivering complete bathroom renovations to the Gold Coast Region. From the initial bathroom design consultation through to our after sales service. We are here to make sure you get the new bathroom you desire.
We understand that your home is your haven. Not only do you want your bathroom to be functional and stylish, but also to reflect your lifestyle and personality. Most importantly, we understand that you want bathroom remodel experts who can bring your vision to life within budget, on time and to the highest standard of workmanship.
Our trades for completing a new bathroom renovations include:
Plumbing – Tile Removal – Waterproofing – Asbestos Removal – Electrical – Carpentry – Tiling – Plastering – Painting
Small Bathroom Renovations
Nuspace Homes is often asked about small bathroom renovation ideas.  When it comes to small bathroom renovations, every centimetre counts. We'll help you design a bathroom that takes advantage of your existing plumbing and offer high-quality results, so your bathroom becomes a relaxing haven for many years to come.
All of our designs have one thing in mind from the start of the process – you. Aiming to make the most out of the available space, while modelling your small bathroom around your style and design preferences, the result of the renovation will be nothing less than perfection.
Disabled Bathroom Renovations
Looking for a disabled bathroom renovation specialist on the Gold Coast ? We'll talk to you about your design ideas and of course your access requirements then create the bathroom that meets your specific disability needs. From bathroom modifications, like installing a disabled toilet, to a complete new bathroom renovation, and of course new aged care bathrooms, Nuspace Homes has you covered.
Bathroom Repairs
Nuspace Homes realise you don't always require a full bathroom remodel.  For this reason we offer Gold Coast bathroom repairs from leaking showers to full waterproofing and retiling. Major leak repairs may include a complete rebuild of the shower area and bathrooms. We make good where others have failed.   Feel free to give us a call to discuss you bathroom repair requirements.